Tziona's nursery is known to all. A warm and devoted family woman from Ariel, Tziona is 56 years old and mother of 6 children, 3 of which still live in her house.
"I've never really understood how to manage my finances correctly, but I was always able to maintain my household and give my children the best," explains Tziona.
About a year and a half ago, two events changed Tzion'a life: Tziona and her husband got a divorce and during a routine medical examination, Tziona found out that she had breast cancer requiring immediate and aggressive treatment.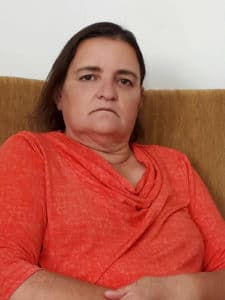 After discovering the cancer, Tziona could no longer continue to work regularly as she had been. Soon enough debt of tens of thousands of shekels to the bank and other institutions began to pile up. Tziona also needed to pay her ex-husband for her part of the house that she would continue to live in and operate her nursery that had already become popular in the region.
The moment before a complete collapse, Tziona realized that she had no choice- she had to stop this cycle she was in and she turned to Paamonim for help. Tziona participated in a unique program of Paamonim that includes a combination of financial education group sessions and one-on-one counseling with Paamonim trained volunteers in order to create and implement a personalized recovery program.
Determined to do whatever it took to improve her situation, Tziona invested a lot of effort over a long period of time in order to reduce her expenses and begin to change the way she managed her finances.
Each month's hard work yielded more results and Tziona's situation began to improve. Eventually, Tziona also found a way to continue to operate her business on the side while undergoing cancer treatment. Paamonim helped Tziona negotiate the terms of all of her debt enabling her to breathe a bit more during this challenging time. Together with Paamonim Tziona also embarked on a campaign to raise funds that would help her manage in the short-term until the end of her treatment.
This past February, Tziona's program with Paamonim ended with great success, and with the wonderful news that her health was also improving. Dekel, Paamonim's volunteer counselor who worked closely with Tziona throughout the length of her program, described Tziona's success: "This week I met with Tziona for our last, conclusive session. Starting with huge overdraft in the bank and thousands of shekels in debt to many different creditors, Tziona has now reached surplus in her bank account and is even putting money into a savings account each month too! In this meeting we discussed what Tziona would do with her savings and how she can use it in the best possible way- to reduce her mortgage, create a pension, and more. Tziona's progress is simply unbelievable. She took the counseling process very seriously and with such determination, and achieved amazing success, even while fighting her cancer."
More than 8,000 families received a personal consultation with Paamonim in 2017 and 20,000 people participated in financial education lectures and workshops with Paamonim volunteers.
Members of the organization report significant success and results after working with families in economic crisis. "We are able to see families truly succeed in improving their financial lives and reducing the gap between their expenses and income by approximate 2,800 ILS a month on average after undergoing personal counseling." In most cases, this is the thin line between living in overdraft and succumbing to debt, and living a balanced and more stable life.
In preparation for Passover, Paamonim is raising funds to help more families in Israel emerge from debt and financial distress. This Passover you can help free families from the bonds and debt and achieve true financial independence.
Donate
Send